Undergraduate Courses/Research Opportunities
Introduction to Oncology (ONCOL 320)
Oncology 320 is a three unit lecture course offered every Fall semester at University of Alberta through the Department of Oncology. This course provides an introduction to oncology with an emphasis on the molecular and cellular biology of cancer. Specific topics include the genetic basis of cancer, the control of cell proliferation, metastasis, tumour immunology, angiogenesis, cancer detection and cancer therapies.
The prerequisite for the course is BIOCH 200.
Starting in 2011, the prerequisite for ONCOL 320 will be CELL 201 or BIOL 201.
Oncology 425 Advanced Topics in Cancer Research
This course is given during the Winter term. The course consists of an alternating set of four modules offered in alternate years (Modules A1, A2, A3 amd A4 in one year, followed by modules B1, B2, B3 and B4 in the following year). Students can elect to take the course for 3 units credit (total of 4 modules over the course of a year) or 6 units credit (total of 8 modules over the course of two years). Each module is comprised of 6 sessions of 80 minutes each and will be taught independently by individual instructors. Modules will have both lectures and group discussion components. Additional modules will be added based on interest and demand.
Prerequisite: ONCOL 320, or 3rd or 4th year relevant course in Cell Biology, Biochemistry, Genetics, etc., or consent of the Department


Honors Research Projects
The Department of Oncology currently has no independent program for undergraduates. However, an undergraduate can carry out a 498 or 499 research project co-supervised by an Oncology faculty member, provided the primary supervisor is a faculty member in a University of Alberta undergraduate program (e.g., Biological Sciences). Interested students should contact potential supervisors before registering for the 498 or 499 course.
Summer Student Program
The Department of Oncology offers summer employment opportunities to registered undergraduate students or students who have completed their undergraduate program and have applied to graduate or medical school. These summer positions are not limited to University of Alberta students. Preference is generally given to students eligible for studentships from the National Science and Engineering Research Council (NSERC), Alberta Innovates: Health Solutions (AIHS). or the Alberta Cancer Foundation(ACF). Interested students should contact potential supervisors at least 6 months prior to the summer term. Students accepted into the program present their accomplishments in a departmental seminar series during the last month of their research. Students are also encouraged to participate in the Faculty of Medicine & Dentistry Research Day Poster session in early autumn.
2018 Summer Student Research Program Announcement
The 2018 Summer Student Research Program in the Department of Oncology is now drawing to a close. Over 20 Canadian and international undergraduate students carried out research projects either at the Cross Cancer Institute, or elsewhere on campus supervised by faculty from the Department of Oncology.
This year, as in previous years, the Department of Oncology hosted a seminar series in which summer students had the opportunity to present the results of their summer research. As usual, the series was well attended by members of the department including faculty, staff and students. From among the many excellent speakers, three students were selected to receive awards for their outstanding presentations:
• First place: Emily Harvey (Chan lab)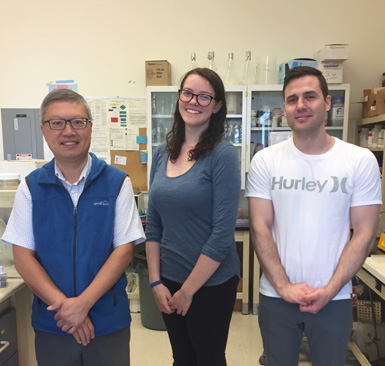 • Second place: Pramalkumar Patel (Gamper lab)
• Third place: Edric Xiao (Chan lab)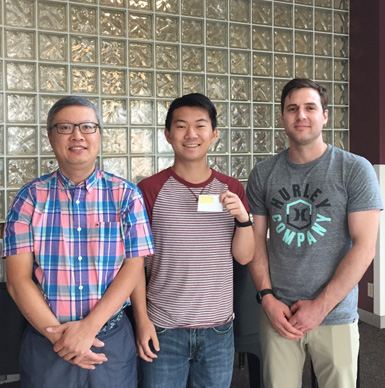 Congratulations to all speakers, and many thanks for participating in the Department of Oncology Summer Research Program!